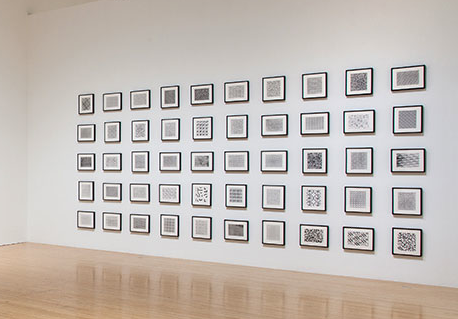 The Artist's Museum at MOCA, LA Times, 2010
Knight, Christopher, Art Review: 'The Artist's Museum' @ MOCA, Los Angeles Times, October 31, 2010
One gallery holds camera works by five artists. Judy Fiskin's Super-8 lamentation on the waning of film-based imagery in an emerging digital universe is linked to the passage of older, stucco-era L.A. Cindy Bernard's photographs of the vision-blocking interiors of ordinary security envelopes — the kind consumer bills come in — coax a menacing tone from abstract patterns and sleek business logos.
Andrea Bowers' funereal grid of photocopies of cryptic pictures and text about social marginalization based on gender hangs next to something different yet similar: John Divola's lush color landscape prints of remote desert shacks. And a large-scale satellite photograph of a mountain ski resort has been digitally manipulated by Florian Maier-Aichen, now suggesting some toxic virus or cancerous tissue seen through a microscope.
The juxtaposition of these five artists' works is inspired. Visually, it's a long way from Fiskin to Maier-Aichen, but deep conceptual connections emerge.
0 Comments