Thinking about Tom Consilvio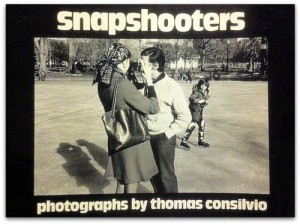 As I've been scanning the 100 images that make up the Security Envelope series, I started to think about the man who printed almost all of them – Tom Consilvio of SilverLab who died in 1991. Tom was well known as the printer who took on the task of proofing the thousands of rolls of film left behind by Garry WInogrand and was the primary printer of his work. It's amusing to consider that at the same time he was printing my crazy photographs of xeroxes of the interiors of bank envelopes and arguing with me about the tone of the white, he was printing images like Circle Line Statue of Liberty Ferry, New York.
Googling, I was happy to find a copy of Snapshooters, was glad to see it and bought myself a copy.
4 Comments