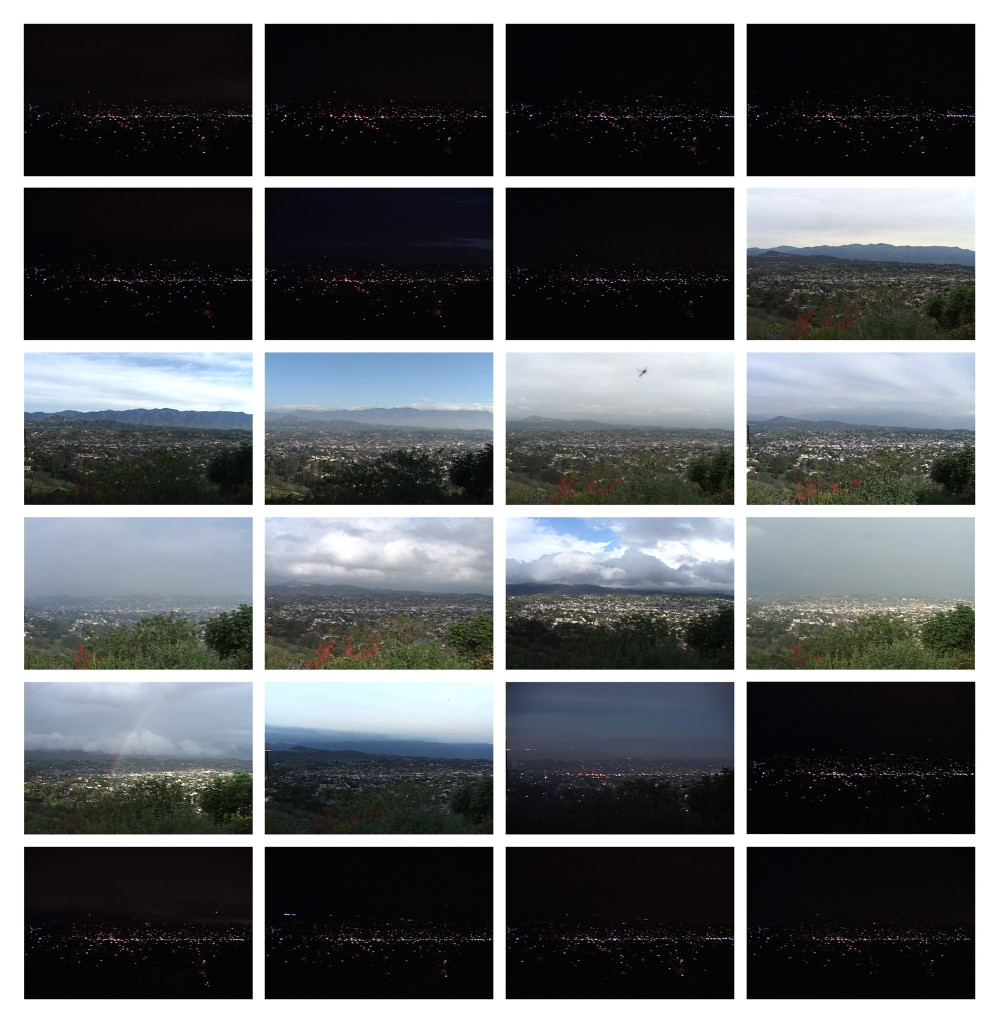 A Year in the Life of Mt. Washington, LA Times, 2009
Haithman, Diane, A Year in the Life of Mt. Washington, Culture Monster, Los Angeles Times, September 17, 2009
Culture Monster readers may remember multimedia artist Cindy Bernard as a force behind last year'sMOCA Mobilization, a grass-roots, save-the-museum movement that came into being in November after news stories surfaced about severe financial problems at the Museum of Contemporary Art.
But before she took up the MOCA cause, Bernard took on another ambitious project, this one involving video and sound: Between October 2004 and September 2005, Bernard recorded the sound and the view from a high ridge in her neighborhood, Mt. Washington, for a film called "Year Long Loop."
The full-length version of "Year Long Loop" has a running time of 24 hours and is composed of essentially one five-minute shot from each hour of the day, organized by the month. A shortened version of the film cuts each of those shots to 25 seconds, thus condensing the year into a 2-hour video that will be shown at 7 tonight on the USC campus as part of the Cinematheque108 alternative screening series, sponsored by the university's School of Cinematic Arts.
Bernard calls the work an homage to structuralist film and a kind of cross between John Cage's "4'33" and Andy Warhol's "Empire." She provided Culture Monster with a 25-second clip from the month of May, which you can watch above.
So, why did she do it?
Bernard says she was inspired by the landscape films of James Benning — but the artist, creator of the experimental music series "sound" and founder and director of the Society for the Activation of Social Space Through Art and Sound, was perhaps even more captivated by the sound than the visual aspects when creating her film.
"I live in Mt. Washington at the top of a natural amphitheater of sound. Ice cream trucks, parties, car horns, coyotes, fireworks and, of course, helicopters combine with owls, hawks, crows and other bird species, buzzing flies, my dog and other sounds from my ridge to create a mix that's in constant flux," Bernard says. "I'd been wanting to document it for some time when a friend gave me a video camera for another project — also the perfect tool to record this 'ambient video.' "
This evening's screening is free, but reservations are recommended. For information, call (213) 740-3334 or visit the USC School of Cinematic Arts web page on "Year Long Loop."
— Diane Haithman
0 Comments